Note: This version of Teamwork Desk is no longer supported.

Check out our help docs for the new version of Teamwork Desk here.
Within Teamwork Desk, you may need to verify your domain. This can be done by adding DNS record to your domain.

We cannot send emails from Desk to your customers using your email address without your permission. If we did, it would have a high chance of either being marked as spam or our servers being blacklisted by the major email providers.

Without setting this up, your emails will go out with a message saying they are sent via teamworkdesk.com, from a different address. That address will be support=company@teamworkdesk.com (based on an inbox email address of the format support@company.com).

Note: If you choose to use your own SMTP server to send emails from Desk, you do not need to worry about giving us permission to send emails on your behalf.

You will need to add three new records to your DNS through your domain provider (usually you'll have a control panel to do this on the site where you registered your domain, such as GoDaddy). We can't give full step by step instructions on how to do this since each interface is different, but your domain provider should be able to provide support relating to this.

To find the details you need within Desk click on your profile icon to the top right of the Desk navigation bar and choose Settings from the dropdown.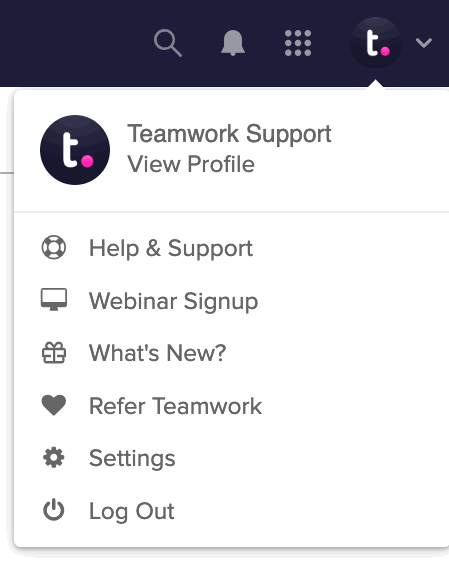 Select Inboxes from the available settings options.


Select the inbox you want to verify the address for and then select Email Settings from the left pane.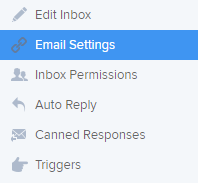 You'll see a Check verification button to the bottom of the screen. When you select this you will see the details of the records that you need to add.

They will be based on your inbox address, and will look similar to this.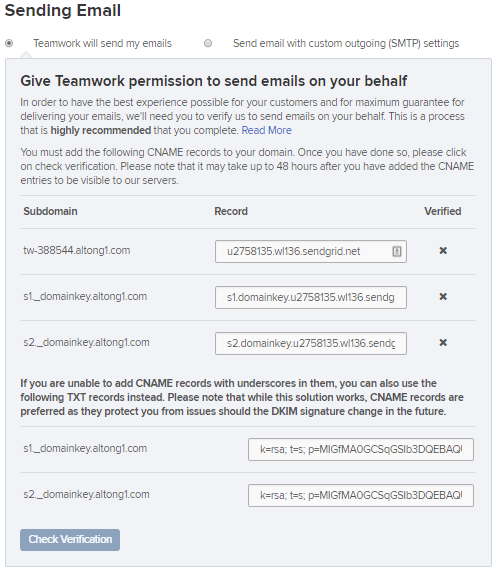 Just add the CNAME records in your DNS settings (the details in the Record fields are what you put in the Data field although they may be labelled differently in your control panel).

Once you have done this successfully, we'll be able to guarantee much more reliable delivery of your email responses to your customers! It'll also help your replies to avoid being marked as spam.

Note: It can take up to 48 hours for the changes made to your DNS to become visible across the web, so you may have to be patient when clicking the test buttons respectively in the email settings section of your inbox in Desk.