Note: This version of Teamwork Desk is no longer supported.

Check out our help docs for the new version of Teamwork Desk here.
Within Teamwork Desk you can create a new ticket from an existing one if required.

You may need to do this if there are multiple issues raised within a ticket or if a ticket thread grows too large and you wish to create a new one to continue.

To create this new ticket, open an existing one and to the top right of each response there will be a selection of icons available as below.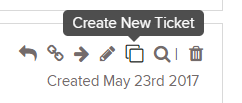 Once you select the Create New Ticket option you will be given an option to name the new ticket.


When you click create the new ticket will be present in the inbox where the original was located.