Within Teamwork Desk, you can set up the Customer Portal to allow your customers to interact with their tickets.

In the Customer Portal, customers can:

View their ticket history

Reply to tickets already created

Submit new ticket requests

View Help Docs before submitting a new ticket request

Enable the Customer Portal

🔑 Only site administrators can access the site settings to enable the Customer Portal.

Click your profile icon in Teamwork Desk's main navigation menu.

Select Settings.

Switch to the Customer Portal tab.


Click Enable customer portal.




Once enabled, the
Customer Portal
section allows you to control general settings and customize your Customer Portal's
appearance
.
General settings

Under General settings, you can customize the high-level settings for your portal, such as language, custom domain, and help docs.

Basics

Language: Choose a language for your Customer Portal or use the language of the user's browser.

Custom Domain: Add a custom domain for your Customer Portal.


The default URL for your Customer Portal is displayed here, in the format:

https://yoursitename.teamwork.com/support/

.

You can add your own custom domain instead by adding a CNAME which points to your default URL.


Help Docs:

Enable one or more of your

Help Docs sites

to be displayed on the home page of your Customer Portal so that your customers can view the corresponding articles directly in the Customer Portal.

📝 The top 10 most popular articles across all categories on each Help Docs site are displayed in the Customer Portal.

Customers can use the search field to search the entire suite of available published articles.

Add Inboxes: Choose the inbox(es) customers can submit tickets to via the Customer Portal.


📝 Agent replies display as sent from the agent or inbox name depending on the

setting

chosen at inbox level.

Inbox Alias: Set a custom label that will be displayed to customers when choosing an inbox, instead of the inbox name.

Customer Permissions

In the Customer Permissions section, you can manage multiple permissions your customers:

View/edit priority: Allows customers to set ticket priority.

View/edit type: Allows customers to choose the type of ticket being submitted.

View/edit tags: Allows customers to view the tags your agents have applied to the their tickets.

See agents: Allows customers to see the name of the agent assigned to their tickets.

Close tickets: Allows customers to close their own tickets.

Customer Portal permissions can be enabled at either company level or individual user level.

✔ The permission option for viewing company tickets is available on Premium subscriptions and above.

Notifications

When notifications are enabled, your customers will receive a welcome email with their Customer Portal login setup when they send in their first (or next) ticket.

📝 The password link will only remain active for 24 hours.

If your customer does not activate within that time, they can resend the password from the Customer Portal login screen.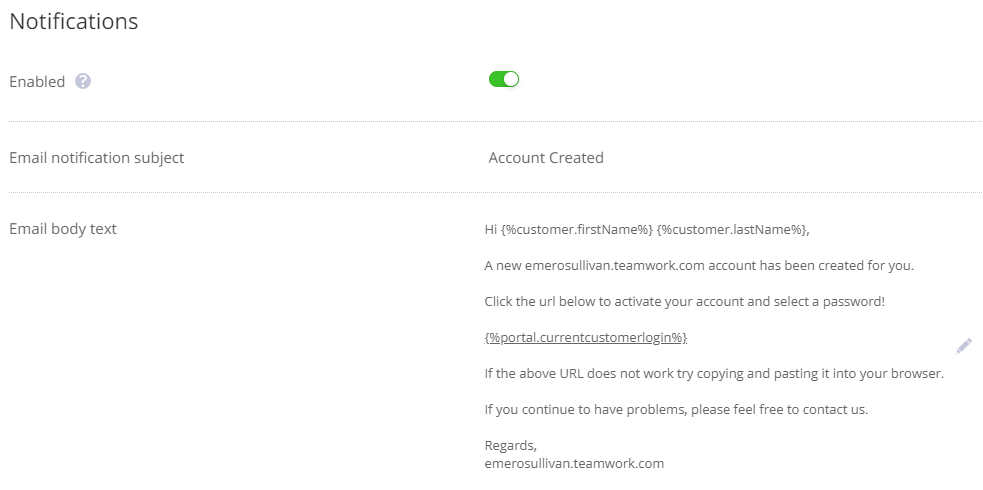 When the Customer Portal is enabled for your site and Customer Portal notifications are turned on, you will also see an option to send a Customer Portal welcome email when
creating new customers
on your site.