Note: This version of Teamwork Desk is no longer supported.

Check out our help docs for the new version of Teamwork Desk here.
Within Teamwork Desk, you can create companies to group and manage your customers.

In the Customers area of your Desk account, select the Customers tab.


To create a new company, click the + icon in the top right corner.


In the Add Company modal, you can add the details for the new company.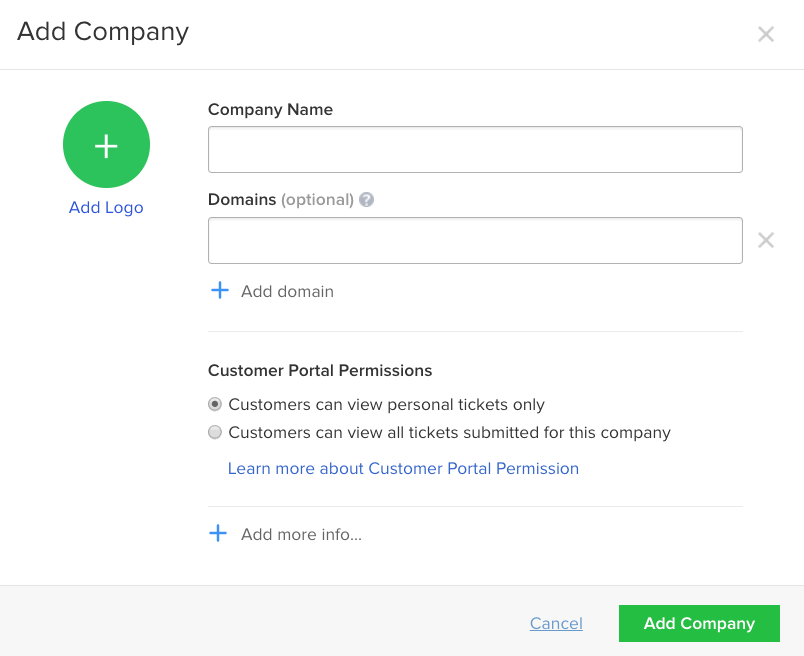 Company options:

Company Name - add a name for the company (required)

Domains - add email domains to the company to automatically add those customers to the company


For example, if you added teamwork.com as a domain, all new and existing tickets from customers matching the inputted domain(s) will automatically be added to the company

You can add multiple domains for a company

A domain can only be associated with one company


Customer Portal Permissions


Customer can view personal tickets only - when the customer logs into their portal account, they will only see their own personally submitted tickets

Customer can view all tickets submitted for this company - if the customer portal is enabled, all customers in the company will be able to view all of the tickets submitted by all members.


Add more info:


Email Address

Office Phone

Cell Phone

Fax

Website

Industry

Address

Details - any notes added here will appear at the top of the company's 'Overview' section


Logo - add a logo image for the company

Note: The Companies feature is available on the Pro plan or higher.