Note: This version of Teamwork Desk is no longer supported.

Check out our help docs for the new version of Teamwork Desk here.
Within Teamwork Desk, if you have set up a Help Docs site you will need to create articles to populate it with.

To create an article, select Help Docs from the left side of the Desk navigation bar.


When viewing the Help Doc area, you will see an option for New Article within the left pane.

When you select this you will be brought to the editor where you can enter the title of the help doc and the main body of the help doc (just like this one).


When editing the article we have provided various formatting options available for creating it just how you like.

Related Articles:

You can add related articles to the doc from any of the previously created articles. This can help your customer to easily navigate related pages without the need to search again.

Keywords:

Keywords can be added to added to any articles you create. By adding keywords it can help your customer to easily find what they are looking for. Remember to add as many as you can and ensure to think of what search terms may be used when someone is looking for this article.

Revisions

Revisions allow you to see each change that has been made to a doc, from the very first change right up to the most recent


Categories

To the left of the article editor you will see a list of categories that you have created. You will need to create a new category or add to an existing one before publishing.

Publishing

When you have finished creating your article, you can save and publish the article which makes it live for your customers or you can simply save the article to work on it further at a later date. These options can be found to the top right of the page.


Once an article has been published you can unpublish it at any time by moving it back to draft. This option can be found to the top of the right pane.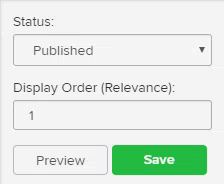 Display Order (Relevance)

This determines how high up the article will appear over others when a search term is met.