Within Teamwork Desk, you can create a smart inbox which allows you to filter tickets based on certain conditions to the smart inbox.

📝 This page relates to the Classic Desk navigation experience. In Teamwork Desk's
navigation redesign
, currently in early release, smart inboxes are now called
custom views
.
To create a smart inbox, go to the Tickets area of your site.

Click
Add New
in the top right hand corner and select
New Smart Inbox
from the dropdown menu.
The General section of the smart inbox form will allow you to:
Create a name (required)

Add a Description

Share the smart inbox with all agents

Group the tickets within the smart inbox by assignee, inbox, priority, source, status, or type.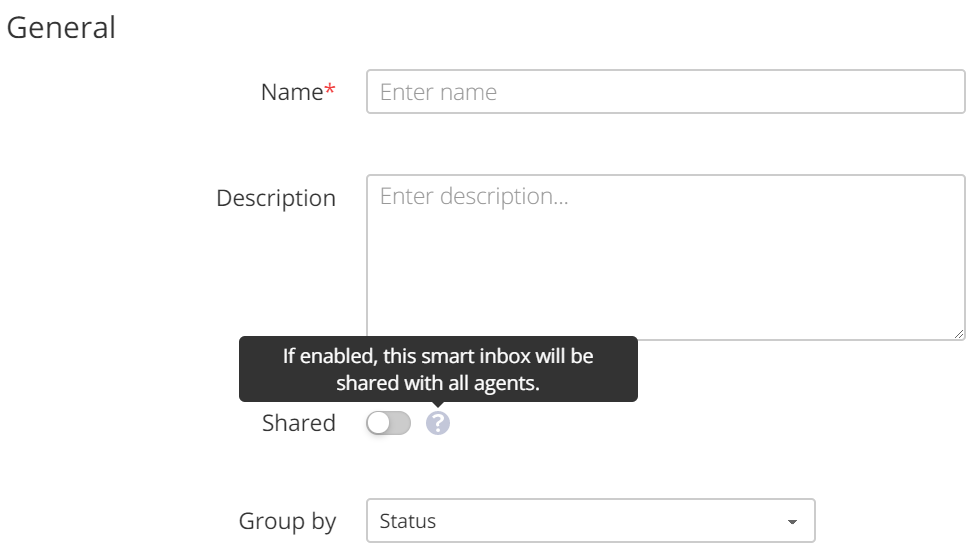 Below the General section, you can choose the conditions that control which tickets will be included in your smart inbox.
You can add one or multiple conditions where tickets will be included if any of those conditions is matched. You can also set conditions where you want tickets included when all selected conditions are matched.

Use the plus icon to add each new condition.
You can build your condition by choosing from a list of information types such as assignee, tag, or inbox.

Depending on the type of information, your condition might be based on whether some content matches in different ways, including:
Is equal to

Is not equal to

Contains

Does not contain

Starts with

Ends with

Matches regex pattern

Is

Has an attachment

Does not have an attachment

Once complete, you can select Create Smart Inbox or Create & view tickets, which will create the smart inbox and open a preview pane of associated tickets.

You can now interact with tickets in your Smart Inbox from the left-hand pane. The inbox will continue to update with new tickets that fit your conditions.