Note: Following the release of the new version of Teamwork Desk, this article is no longer maintained. You can follow these steps to switch to the new version. Check out our new & updated help docs here.
Within Teamwork Desk, you can can view any tasks added to a ticket within the ticket's Tasks tab.

Here, you will see a list of any tasks already attached to the ticket, grouped by project task list.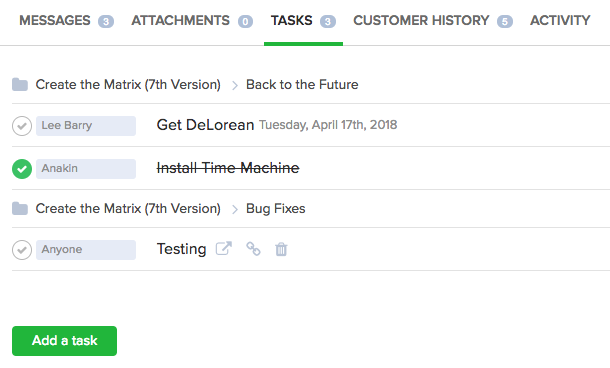 ---
Task status

Like in Teamwork Projects, each task will have an icon to the left of its name indicating its status.

Active tasks

Completed tasks

Dependent tasks

Parent tasks

When you hover over the assigned field, it will display the name(s) of those assigned to the task.

If the task has a priority set, you will see the priority icon to the right of the task name.

The comments icon will also display, if there are comments left on the task.


---
Hover options

When you hover over a task in the list, you will see some additional options to the right of the task name.

Open link in new window - this will open the task in a new tab: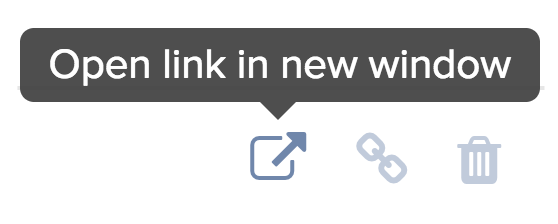 Unlink task from ticket - this will remove the task from the ticket: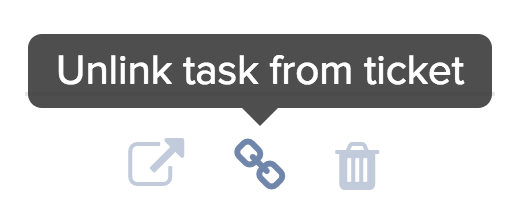 Delete task - this will delete the task entirely, from the ticket and from its project: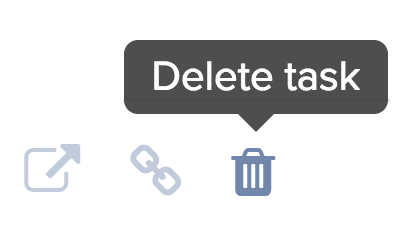 ---
Task details

When you hover over the name of one of the tasks on the ticket, an additional modal will be displayed, showing:

Created by - who originally created the task, including creation timestamp

Completed by - who completed the task, including completion timestamp

Board view - if the task is linked to a board column, the column name will be shown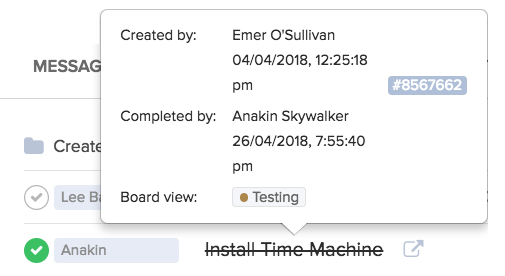 When looking at the list of tickets in a particular inbox, any ticket with an active task attached will have a red check mark beside the subject:


Once a task has been completed, the associated ticket will have a green check mark beside the subject and the ticket status will automatically be set back to Active:


---
Task privacy

If a task is attached to a ticket, but you do not have permission to view that task, you won't be able to view the task details in the ticket.