Note: This version of Teamwork Desk is no longer supported.

Check out our help docs for the new version of Teamwork Desk here.
Within Teamwork Desk, you can set up a custom domain for your team to access your Teamwork Desk site.

Note: The custom domain in which you choose to use will also change for your Teamwork Projects site URL.

The difference between accessing your Teamwork Projects and Teamwork Desk site would be by adding /desk to the end of your custom domain.

For example, if your custom domain was '
test.yourcompany.com
'
. This
test.yourcompany.com
would become your root domain i.e. change from your original Teamwork Projects site and when accessing Teamwork Desk you would use
test.yourcompany.com/desk
.
The process to set this up involves adding records in your DNS settings, so the person who manages your website would usually be able to do this for you.

Setup steps

First,
create a CName record and point it to our SSL server. You usually do this in a control panel from the company you registered your domain name with, such as GoDaddy.com. The exact address will be determined by your hosting so if you wish check your site settings to make sure you have the correct address.
Next, verify the CName record is working by visiting the URL for your new custom domain in a browser.

Finally, log in to your Teamwork Desk site at your current address. Click on your profile icon to the top right of the Desk navigation bar and choose Settings from the dropdown. Once in Settings, select the Company section, to the top of the page you will see Site Name.

Select Go there now under site address to be brought your general Projects settings page where you can change the address from there.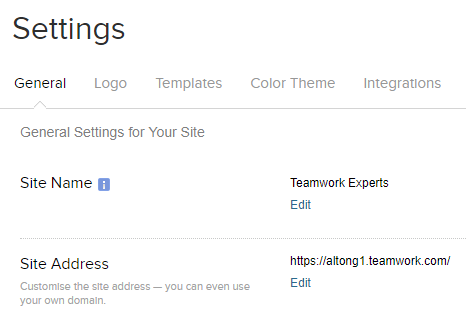 Select
Edit
next to site address, click custom domain and enter in your custom domain URL.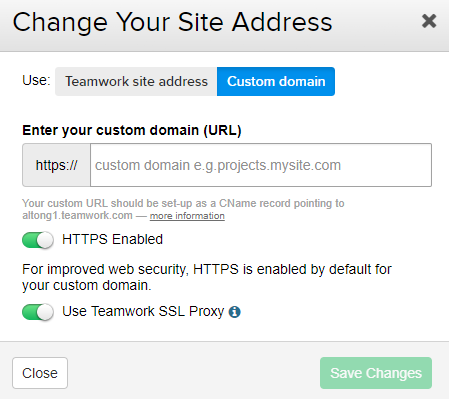 Save your changes when ready.

Now when you visit your custom domain URL in a browser, you'll go to your Teamwork Desk site by adding /desk to the end of your custom domain.

Note: Do not use a DNS A record for your custom domain, make sure the DNS record you create is a CName record.