Note: Following the release of the new version of Teamwork Desk, this article is no longer maintained. You can follow these steps to switch to the new version. Check out our new & updated help docs here.
Within Teamwork Desk, you can see delivery updates on individual tickets to see whether a customer is receiving your replies.

When you are viewing a ticket, you will see a timestamp to the right of the agent's reply to the customer.

Hovering over the timestamp here will show you when the reply was created, as well as the delivery status of the message.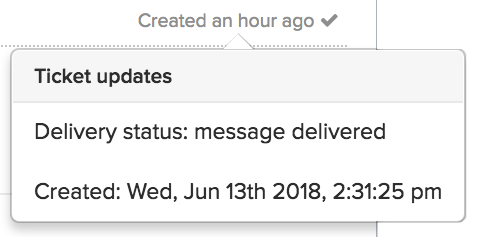 When a reply has successfully been delivered, you will also see a checkmark to the right of the timestamp.

If there was an issue in delivering the message, there will instead be an x beside the timestamp. When you hover over the timestamp, you will see details of the issue.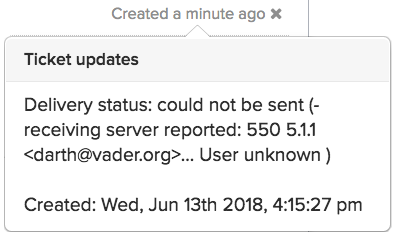 If you are experiencing issues with replies being delivered, please contact us at
support@teamwork.com
.
Note: There is a 20MiB attachment limit when sending replies in Teamwork Desk. If your attachment are above this, you will be alerted in the bottom right of your Desk account that the message has not been sent.