For Teamwork Spaces, you can use the
pricing calculator
on the Teamwork website to estimate your potential subscription cost.
On the pricing page, select Spaces from the products list on the left to open the calculator.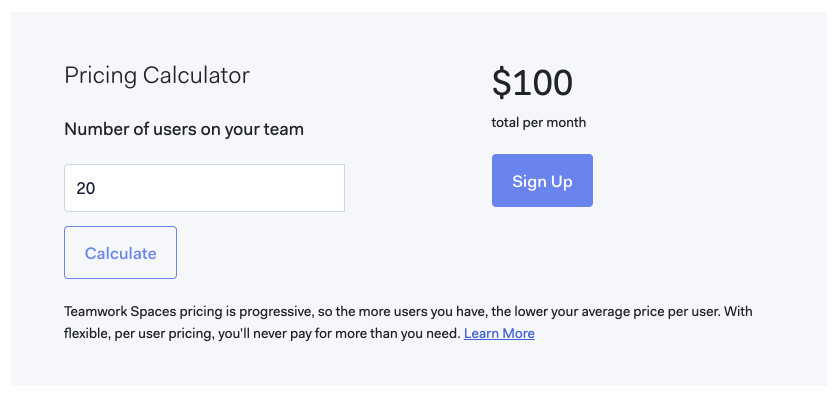 In the top right of the pricing area, you can switch the billing period from monthly to annual. The calculator will apply the 20% discount when giving you the annual calculation.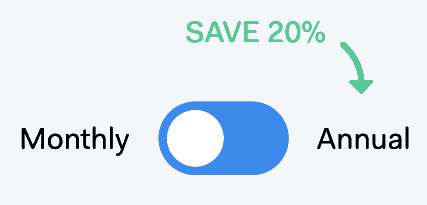 Teamwork Spaces pricing is progressive, so the more users you have, the lower your average price per user.

| User Total | Monthly | Annual |
| --- | --- | --- |
| 10 users | $10 per month for 10 users | $8 per month for 10 users |
| 1 - 100 users | $5 per user, per month | $4 per user, per month |
| 101 - 250 users | $3.50 per user, per month | $2.80 per user, per month |
| 251 - 5,000 users | $1.10 per user, per month | $0.88 per user, per month |
Example 1 - 250 users

A monthly subscription with 250 users would cost $1025 per month:

| Users | Monthly Rate | Monthly Total |
| --- | --- | --- |
| 100 users | $5 per user per month | $500 |
| 150 users | $3.50 per user per month | $525 |
| | Total monthly subscription cost | $1025 |
| | Total annual cost | $12,300 |
| | Average cost per user per month | $4.10 |
An annual subscription with 250 users would cost $820 per month:

| Users | Monthly Rate | Monthly Total |
| --- | --- | --- |
| 100 users | $4 per user per month | $400 |
| 150 users | $2.80 per user per month | $420 |
| | Total monthly cost | $820 |
| | Total annual subscription cost | $9,840 |
| | Average cost per user per month | $3.28 |
Example 2 - 275 users

A monthly subscription with 275 users would cost $1052.50 per month:

| Users | Monthly Rate | Monthly Total |
| --- | --- | --- |
| 100 users | $5 per user per month | $500 |
| 150 users | $3.50 per user per month | $525 |
| 25 users | $1.10 per user per month | $27.50 |
| | Total monthly subscription cost | $1052.50 |
| | Total annual cost | $12,630 |
| | Average cost per user per month | $3.83 |
An annual subscription with 275 users would cost $842 per month:

| Users | Monthly Rate | Monthly Total |
| --- | --- | --- |
| 100 users | $4 per user per month | $400 |
| 150 users | $2.80 per user per month | $420 |
| 25 users | $0.88 per user per month | $22 |
| | Total monthly cost | $842 |
| | Total annual subscription cost | $10,104 |
| | Average cost per user per month | $3.06 |
Example 3 - 20 users

A monthly subscription with 20 users would cost $100 per month:

| Users | Monthly Rate | Monthly Total |
| --- | --- | --- |
| 20 users | $5 per user per month | $100 |
| | Total monthly subscription cost | $100 |
| | Total annual cost | $1,200 |
| | Average cost per user per month | $5 |
An annual subscription with 20 users would cost $80 per month:

| Users | Monthly Rate | Monthly Total |
| --- | --- | --- |
| 20 users | $4 per user per month | $80 |
| | Total monthly cost | $80 |
| | Total annual subscription cost | $960 |
| | Average cost per user per month | $4 |