Within Teamwork Projects, you can add subtasks to a task from one of your task templates.

Hover over a task and click the dropdown arrow to the left, to reveal the task options. Select the Advanced option at the bottom of the dropdown menu, and then choose Add Subtasks From Template.

In the Add Subtasks modal, you can select one of your existing task templates from the templates dropdown.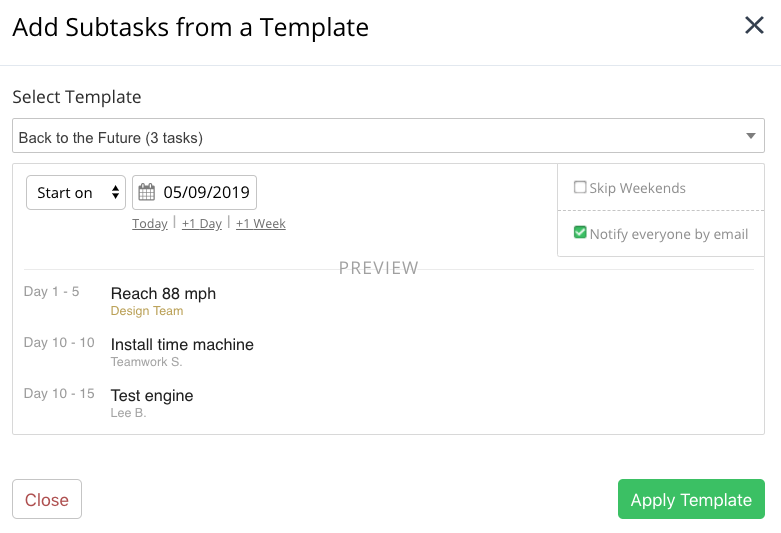 Note: Any task list defaults set on the task list you are importing to will be ignored, with the template tasks' settings imported instead.

---
Setting an anchor start or end date

Once a template has been selected, you can choose an anchor start or end date which will be used to set the new subtasks' dates.

Start on a specific date:


All subtasks added will start either on or after the date selected, based on their Day # set in the template.


End on a specific date:


All subtasks added will end on or by the date selected, based on their Day # set in the template.

Note: The anchor date field will auto-populate with the start date of the parent task you are adding the subtasks to.

If none of the selected template's tasks have start or end dates, the anchor date option cannot be set.

In the top right, you can enable the
Skip Weekends
option. When
skip weekends
is applied, all Saturdays and Sundays are removed from the task duration count. This means that only working days (Monday to Friday) are included in calculating the start and end dates for the task.
---
Assignees and roles

If any of the tasks in the template have assignees or roles, you can select the Notify everyone by email option to the right, which will send notification emails to the selected user(s).


If any of the template tasks were created with the
Choose later
assignee option, you will be prompted to set who will perform these roles.
Once you click Apply Template, the tasks will be added as subtasks of the chosen task. If the task already has subtasks, these new ones will be added to the bottom of the list.

If the selected template's tasks have subtasks, these will be included under the newly imported subtasks.

Any dependencies already set on tasks in the template will be included when the subtasks are created.

Note: Recurring tasks in a template will not be recurring when added as subtasks.

Files

When a subtask is created from a template task that has files attached, those files will be included in the newly created subtask.