Within Teamwork, you can link your site to the Teamwork Timer desktop app for logging time to your projects

The
desktop timer
is a free add-on app that allows you to import your tasks to one place. It allows you to keep on track of your work and never lose sight of time again.
Note: For time recorded via the timer app to show within your Teamwork site, you must complete logging this within the timer app by choosing the project and task to log it to and selecting log time.

Logging in

After downloading the app, you will need to log in. You can choose to login using your email or username or password, or via your
API key
.
Multiple accounts

If you have accounts on multiple Teamwork sites, you can add each one to the timer app, allowing you to easily switch between them.

When logged in, click your profile icon in the bottom left corner of the app, and select the Add Account, you will then be prompted for your login details. The app will then show any active accounts associated with that email address, for you to choose from.

Adding a timer

You can add a new timer at any time by clicking the + button near the bottom left. You can either enter a name for the new timer, or select an existing task from one of your projects.

Settings

Display


Show total time - If you have this option enabled, a total time will be shown in the lower left of your timer app

Blink current timer if paused - If this option is enabled and the timer is paused, then the timer will blink until reactivated

Show time in Menu Bar - show current timer in the menu bar on your computer (for Mac)

Keep timer on top of other windows when in compact mode - If this option is enabled, the timer when compacted from the upper right will always show on top of the browser windows you are viewing

Hide icon from taskbar when in compact mode


Behavior


Only return starred projects - Choose to only return tasks from starred projects

Default: Reset timer instead of deleting when logging time

Default: Mark associated task as done when logging time

Pause timer when computer is idle. You can set the time to be considered idle

Automatically remove timers attached to deleted tasks

Automatically remove timers attached to completed tasks

Only remove timers that have no time recorded

Launch Teamwork Timer at start up (for Windows)


Notifications


Enable notifications

Notify me when timers have been automatically deleted

Notify me when timer has been paused due to inactivity

Notify me when timer has been resumed due to inactivity

Notify me if a timer has been running longer than 8 hours

Remind me to start a timer if I'm active for over 30 minutes and one isn't already running


Account


Login/Email

Password

Remove account - All associated timers will be removed

Starting a timer

You can start the timer on a task by highlighting the timer you need and selecting the play or start icon to the top left.

Logging time

The log time option in the lower right opens the option to edit the time log on the highlighted timer.

You can log multiple timers at once, by using Ctrl + A on windows or Cmd + A on Mac to select all or Ctrl + click/Cmd + click to select individual timers and then use the Log timers button.

Collapse or expand

In the upper right of your timer app window, there is a collapse and expand icon, using this will allow you to collapse or expand your timer as necessary.

Editing a timer

If a time log needs to be edited or deleted before you are ready to log the time, you can do so by clicking the pencil icon to the left of the current time.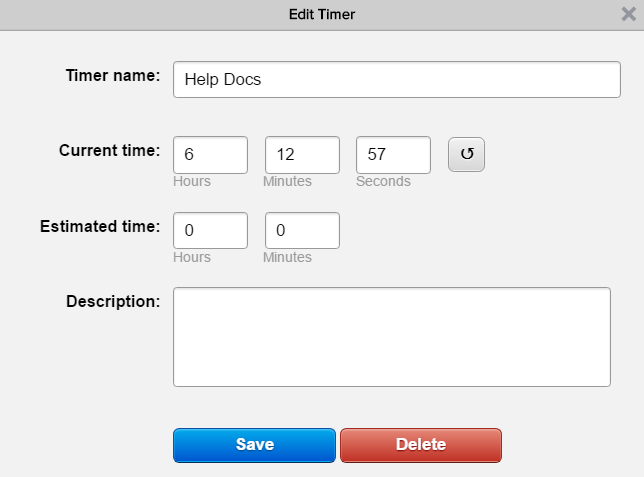 You can also add an option for estimated time for an existing timer, this option to enter estimated time is for reference when you view the estimated time column in the project that the task timer is attached to.

Importing tasks

You can import tasks from your projects to the timer app by clicking the import button near the bottom left of the app.

You can sort by project, task list, task name, start, due, or priority.

You can also use the search box to find tasks.

If you hold down shift on your keyboard, you can select multiple tasks to add at once.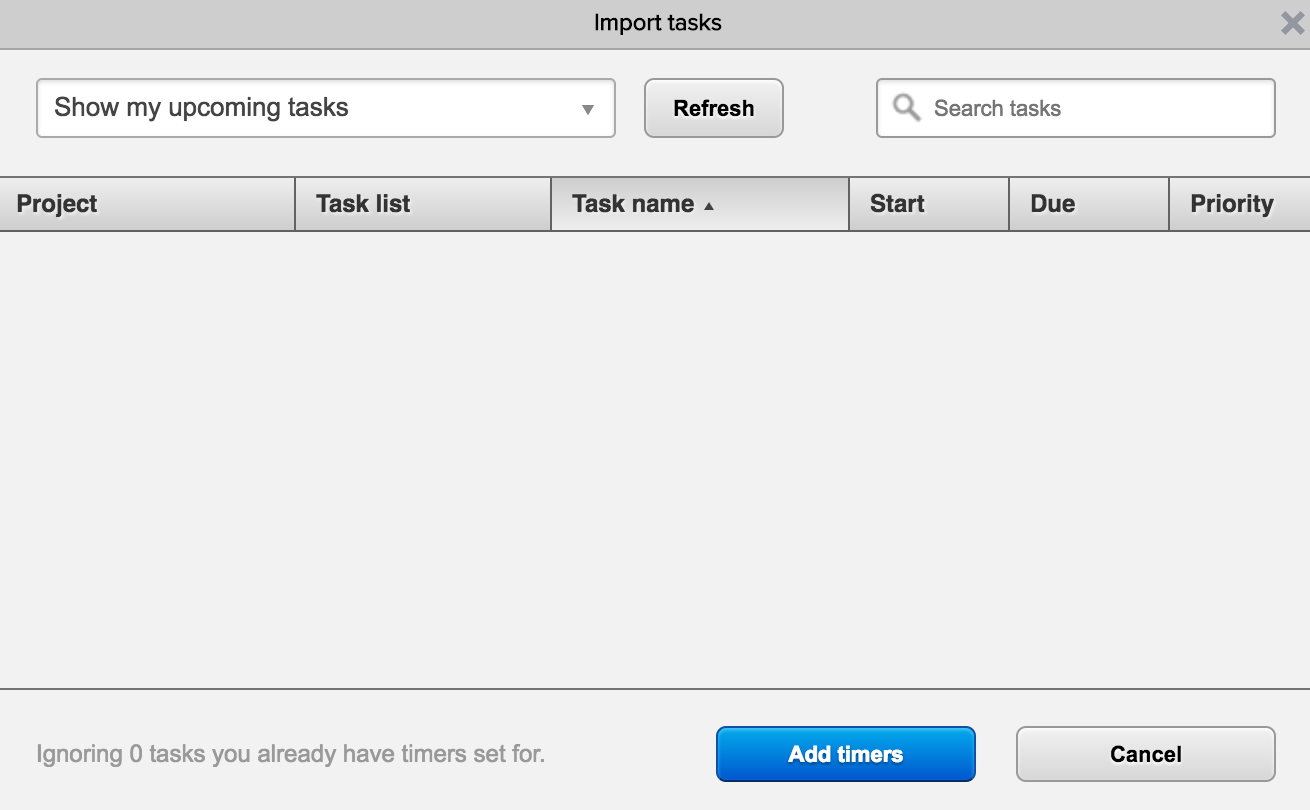 In the import modal, you can choose which tasks you wish to view.