Note: This version of Teamwork Desk is no longer supported.

Check out our help docs for the new version of Teamwork Desk here.
Within Teamwork Desk you may need to create a ticket within an inbox on behalf of a customer.

You can create this from under any of the inboxes that you are a part of such as the unified inbox.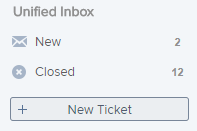 You will then be able to enter the following details:

Customer email

Subject

Text Editor

Inbox

Type

Source

Status

Assigned to

Tags

It is important to note you can also edit the subject line of a ticket, by simply clicking it.