Note: This version of Teamwork Desk is no longer supported.

Check out our help docs for the new version of Teamwork Desk here.
Within Teamwork Desk, you can create new inboxes for the various customer issues you will be handling.

These inboxes are separate but you also have access to a unified inbox where you can choose to include emails from selected inboxes all in one place.

To view your inboxes select Tickets from the navigation bar to the top of Desk.


In the left pane you will see a list of your created inboxes along with the unified inbox.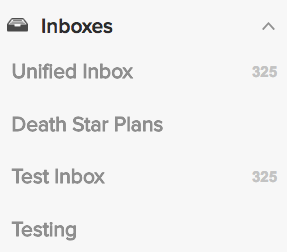 Unified Inbox

The unified inbox is a collection of emails from all the inboxes that you have selected to be a part of.

To view what inboxes you have included in the unified inbox select 'Dashboard' from the top navigation bar.

The unified inbox will only appear if you have created more than one inbox.

New – Any new ticket that is unassigned in any inbox added to the unified inbox.

All mine – Tickets that have been assigned to you specifically.

On-Hold – Tickets that have been marked by an agent as on hold.

Assigned – Tickets that are assigned to others who are also a part of the inboxes you are a part of.

Waiting – Waiting on customer, tickets that have been responded to, and marked as waiting on customer.

Spam - Any ticket received and considered spam by the spam filter.

Specific inboxes

The specific inboxes are those inboxes listed beneath the unified inbox in the 'Tickets' section. Tickets shown in these are specific to that inbox.

New – New tickets for that specific inbox.

Mine – Tickets assigned to me within that inbox.

On-Hold – Tickets marked as on-hold by an agent within that inbox.

Assigned – Assigned to others within that inbox.

Waiting – Waiting on customers to reply to a ticket within that inboxes.

Spam - Spam tickets in this inbox

Sample inbox

Within Teamwork Desk, a sample inbox is automatically created for you when you first access your site. It is designed for you to test out sending and interacting with tickets, before creating inboxes of your own.

Since it is intended for basic testing purposes only, the Sample Inbox has a limit of 20 messages in place. This limit includes both Inbound and outbound messages.

Note: After twenty messages, no new messages will be sent or received by the sample inbox.