Note: This version of Teamwork Desk is no longer supported.

Check out our help docs for the new version of Teamwork Desk here.
Within Teamwork Desk, you can add custom fields to your contact form which can be accessed from your
customer portal
or embedded on any web page.
Note: Custom Fields are only available on the Pro and Enterprise plans.

Your
access contact form
can be linked to a multiple inboxes. If you have created any custom fields on these selected inboxes they will appear when the customer chooses the inbox from the dropdown within the window.
When your customer is sending a support request they can choose the inbox they wish to send their issue to.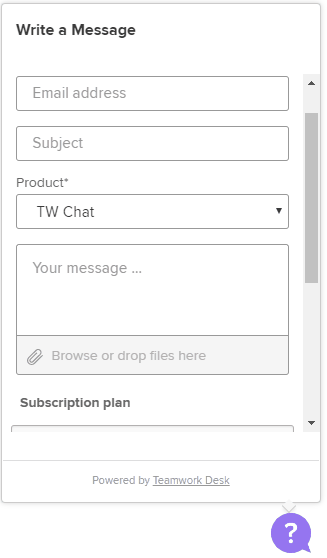 When an inbox is selected you will see the custom fields change in relation to the inbox they have selected.

You can decide which custom fields are needed for each inbox when
creating them
from Settings > Company > Custom Fields.